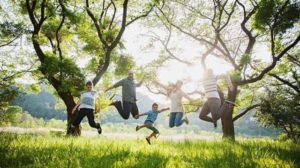 Parenting is hard. Aside from being a husband, parenting is one of the hardest roles I have ever filled. When I say hard, I mean hard as in "there is no handbook for the right way to do this" type of hard. Parenting is a bunch of surprise moments, for which you have no experience, strung together. And as hard as parenting is, being a step-parent is more difficult.
My son is seven and a half. In April, I will have been his dad for five years. I love him. He is funny, smart, tough and sensitive. He loves his mommy and his sister. Sometimes he is a handful, but he is a good kid. The last 5 years have been quite a journey.
As much as I love him and am grateful for the opportunity to be his dad, at times I am challenged with our relationship. One of the more difficult parts of being a stepparent is seeing the sweet moments between my wife and son, or my daughter and son, and knowing that those moments occur more naturally between them. My wife and son do have difficult moments, and I also share sweet moments with my son. However, those moments with him are glaringly less frequent than the ones he shares with his mommy. In fact, there are times where he reminds me that I not his biological father, and that he may feel his family unit consists of him, his mom and his sister. Those moments can cause me to feel hurt, anxiety and frustration that often overshadows those sweet moments.
At times I will consider to myself, "if it's like this now, imagine what it will be like when he's twelve or sixteen." While I may be challenged, there are several things I do to help protect and grow our relationship. And, since I am being transparent, I do not always succeed.
But for his sake and because I love him, I try.
Prayer
Prayer is one of the bigger struggles in my own spiritual walk. However, I try to maintain consistency in my prayer life. One of the things I pray for all the time is my relationship with my son. I name the things I am thankful for, confess the things I handled wrong, and ask God to give me wisdom for areas where I am struggling. For those that aren't religious, you may call this "positive, self-talk." Perhaps you identify the good moments, separate them from the bad ones and brainstorm ideas for the difficult ones. Maybe that works. However, when I take it to God, the Holy Spirit heals hearts and guides hands.
Encouraging Scripture
Philippians 4:6-7, "The Lord is at hand; do not be anxious about anything, but in everything by prayer and supplication, with thanksgiving, let your requests be made known to God. And the peace of God, which surpasses all understanding, will guard your hearts and your minds in Christ Jesus."
Seek Counsel
This one has been difficult for me. You would think that with how prevalent divorce is in America, that finding guys that are willing to talk about it would not be hard, but for me it has been. Just like other areas in life, I've learned that wise counsel in parenting is essential. This is very true with step parenting. I am also blessed that my wife, even with being close to the situation, is willing to talk with and encourage me. Counsel, whether it is a Facebook group, a small group, professional, or a one-on-one coffee meeting, is important for perspective and encouragement.
Encouraging Scripture
Proverbs 15:22, "Without counsel plans fail, but with many advisers they succeed."
Spend Time
One on one time with your stepchild is crucial to your relationship. Time together helps the child see that you value them, and want to reserve time just for them. Both my wife and I carve out private time with my son. Reading a book together at bedtime, an ice cream outing or a bike ride are opportunities to cultivate sweet moments. The hope is that eventually there will be enough sweet moments to overshadow the difficult the ones.
Encouraging Scripture
Psalms 103:13, "As a father shows compassion to his children, so the LORD shows compassion to those who fear him.
This is part of how I am dedicated to growing my relationship with my son. I know there is more that can be done. I am committed to discovering new ways to reach out to him because he is my son. I look forward to the day when he recognizes the depth of my love, and my desire to help him become the man that I know God desires him to be.
What have you found that works for cultivating a deeper relationship with your stepchild?
If you enjoyed this post or know someone that would, please use one of the social buttons to share it.