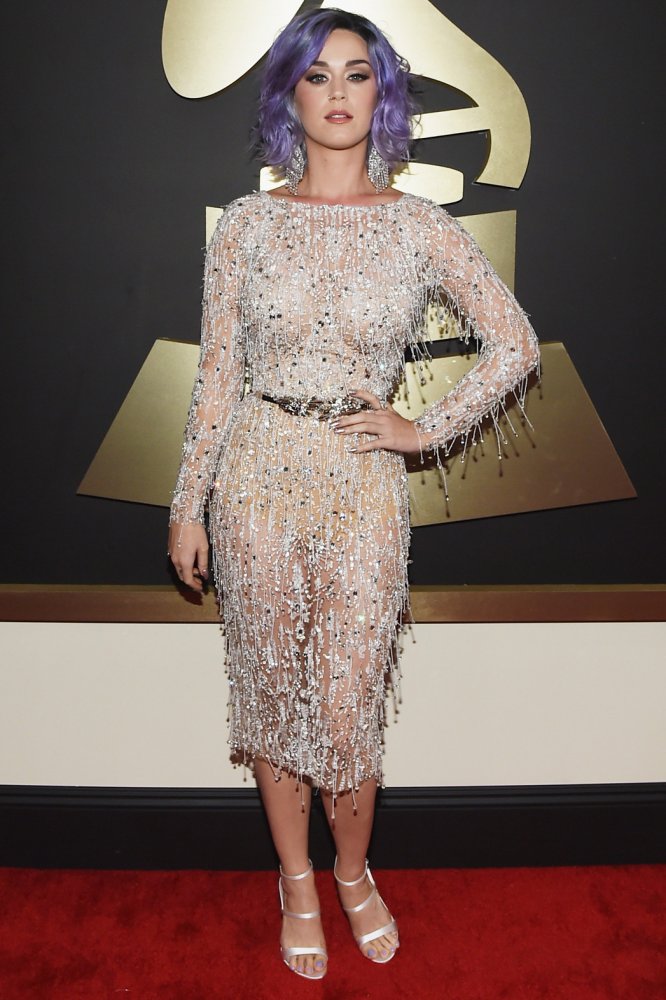 Amid the glitz and glamour of the most recent Hollywood gathering, musicians and stars strut the red carpet showing off the latest fashion of the designer that paid them the most. There are speeches made and jokes told and performances… performed, all for the purpose of sucking us into a world that "everybody" dreams about being a part of. And, somewhere in all that, awards are handed out. It's The Grammy's!
To be honest, I didn't watch them. I was busy enjoying my birthday dinner at The Melting Pot (go there!) and watching the mid-season premier of The Walking Dead (watch that!).
But, even though I didn't watch it, without looking for it, I know two things that happened.
1. LaCrae won a grammy for Best Contemporary Christian Music Performance/Song for the song Messenger. Bravo for that!
2. Katy Perry isn't a Christian.
Well, I don't know if that's true, but I do know there are plenty of Christians that made sure to make that known after her remarks to Ryan Seacrest during her Grammy interview.  I won't call anyone out in particular, but just check the google, the Facebook or the twitter and you'll find it. Here's what she said:
"It's funny, I was praying and I got a word from God and He says, 'You got this and I got you.' And then I was on top of the lion and a guy, a random guy, just looked on me with a headset that I've never communicated with before and he just looked me straight in the eyes and said, 'You got this.' And I was like, 'Oh, this is God confirming I can do this."
(Article link HERE)
Because people are entitled to their opinions, they can say whatever they want, but as Christians, we ought to be careful who we say isn't "in". This isn't about calling out sin, which is important, as long as it starts with yours (HERE is a blog on that). This is about making a definitive statement about the condition of a person's heart and what Jesus might be doing in it. We simply aren't allowed to do that.
Most of the comments revolve around the fact that Katy said she heard from God before her Super Bowl Half Time performance and how that does't make her a follower of Jesus. While I agree that giving God "props" for a touchdown or winning an award doesn't make you a Jesus follower, I would caution you to be careful when making a statement that excludes the work that God may be doing in them.
As Christians, when we say things that excludes someone from our "club" it does nothing but alienate them and ignores the might and majesty of God. Just because He may not be speaking to others in the perfect way He spoke to you, doesn't make it less perfect. It makes it grace. When we do this, we trample grace. In that case, if grace is our business, it looks like we're headed for bankruptcy.
In Katy's case, she grew up in the church, as a Christian, singing christian music. I assume (and this is only my assumption) that at some point during that time she spoke to God and He spoke to her. So her saying she heard from God isn't so far-fetched. I'm not saying she's following Christ well, or even at all, just that she's been exposed to the truth and knows the difference. And in that, Christ can work.
My friend Tori Karr said this on the article I posted on FB:
I believe we all fall away at some point in our lives, just not to this degree. Being lazy, living for ourselves, talking about others, etc. Katy Perry's is just magnified because she is in the spotlight and she merely sings about what MANY Christians think on a daily basis, so struggle alone in your head or tell everyone all about it, we're very similar. I've met several Christian artists who were less than pleasant to be around and I could argue they were not Christ-like at all (fame and fortune gets to them just like Katy Perry). I know that she doesn't use her stance well but when she one day realizes she needs Christ fully, think of all the people who are following her that she may help lead to Christ one day. I'm on her team. We can judge her or we can hope for the best that she will one day "return."
She's smart. I have a lot of smart friends.
All that to say, God's work in others is a mystery to us and we ought to view it as that… something that we know little or nothing about, but that amazes us.
Keep talking to God, Katy!