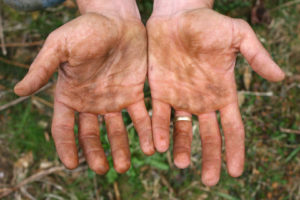 A common roadblock for many of us coming to Jesus is the truth that we are not good enough. And so we have convinced ourselves that once we clean up our mess we will feel "right" in approaching Him. It almost doesn't matter when someone says something like, "Come as you are."
Recently I read James1:27, "Religion that is pure and undefiled before God, the Father, is this: to visit orphans and widows in their affliction, and to keep oneself unstained from the world." Immediately my mind went to "What if I am hopelessly stained by the world? What if I serve widows and orphans, help the homeless, feed the hungry and seek justice for the oppressed, but still feel stained?"
Maybe you've asked the same question. Maybe you feel like you have been angry one too many times. Maybe you have watched porn so many times that even when you desperately want to erase it from your mind it creeps back in. Maybe you have had an affair, or multiple affairs. As much as you want to put it behind you, heal and prove your dedication to your wife, the remnants of that hurt will not release their grip on your conscience. Perhaps it's a problem where your pride pushed others down for your benefit. Does your habit of lying make it difficult for you to even know your own truth?
Whatever your stain, it doesn't wash off. And a verse like James 1:27, taken by itself, makes it seem like an impossible task. It is. For you.
No amount of good work or deeds, on your part, will remove your stains. Nothing you do will wash away the stains that are there. So what are you to do?
The most important thing is to understand that James isn't talking about our relationship with Jesus, well, not directly anyway.
We want to draw a sharp distinction between religion and relational reconciliation. While both are important, the order in which we approach them is more important. Relational reconciliation always leads to religion, but religion does not always lead to reconciliation.
Here is the line that I'm drawing. Relational reconciliation is salvation. It is being introduced to Jesus and deciding to enter into the relationship that He offers. Relational reconciliation is choosing to believe in Jesus so you can be reconciled to and approach the Father unblemished by the world. Relational reconciliation is spending time with God and allowing the redeeming work of Jesus on the cross to wash you clean. It is about allowing the Holy Spirit to transform your heart and character so that the fruit of the Spirit becomes evident to everyone else. Religion is where we display the evidence of that; it is where we have relationship with Jesus.
A religion is nothing more than an institution for expressing belief in a divine power. While Christianity as a title identifies us as followers of Jesus, as a religion it is the venue where we are "energetic in [our] life of salvation, reverent and sensitive before God." The religion that James is talking about comes after our salvation and reconciliation. The religion he is talking about is the product of the work of Jesus in our heart and the power of the Holy Spirit in our life.
I've struggled with this more than once. So many times I have felt like I was not working hard enough or that I had not kept myself unstained by the world. Each time I was reminded that I do not have to work hard enough and it isn't me that keeps me unstained by the world.
Jesus on the cross allows us to start again. It doesn't always erase the memories in our head, the stuff that gnaws at our conscience, but it does erase the sin stains on our heart that separate us from God. The conscious gnawing does lessen – through time spent in God's word and acts of confession to God and others.
Regardless of how you feel or how bad you think you are, the redeeming work of Jesus frees you to approach God. Healing is always the result of Jesus' compassionate heart. Wholeness is always the result of the Holy Spirit's immense power.
Religion without relationship is just tedious work, often times good work, where many become disillusioned with Christianity. Religion without relationship keeps you from the abundant life that Jesus offers.
Don't start with religion, start with relationship. The stains come out, I promise.