Connection to other believers.
Gospel-Centered Community (GCC): a body of committed believers, connected by a shared purpose and vision to see Jesus glorified, and who challenge each other into deeper relationship with Jesus and one another.
Gospel-Centered Missional Community (GCMC): the practical outworking of GCC, focused on cultivating disciples who make connected disciples.
I call the process for growing into community The Walk and it looks like this: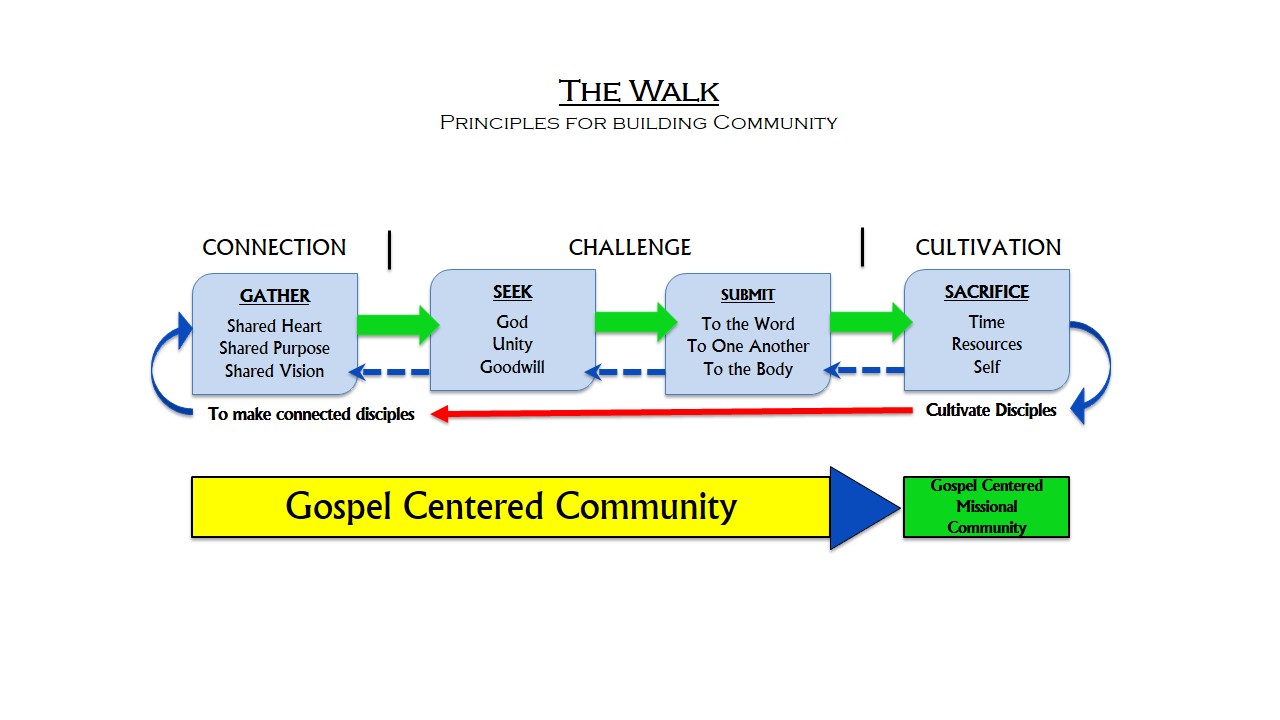 This is the first of three posts to discuss committed actions, and their associated elements, for developing community.
In this post we will flesh out the action of Connection. The committed action of Connection can be read as:
We will connect ourselves to each other by gathering around a shared heart, purpose, and vision.
Connecting Ourselves to Each Other…
At its most basic "to connect" simply means to join or unite. In this context it does mean that, but it also carries a much deeper opportunity. Christians who intentionally commit to being connected to one another bind themselves together as one body under the headship of Jesus. They are communicating to each other, and others, their desire for unity with that group of people. This is less about a signed "covenant" or membership application and more about allowing the Holy Spirit to draw and bind their hearts to one another. In the drawing and binding of connection the practice of loving each other (John 13:34) is learned and applied. And, in obeying Jesus' new command, a community is bound more tightly together.
Gathered before Scattered
Connection in the context of GCC is grander than simple association. We have connections to others in many aspects of our lives. We connect with people at work, other parents in our children's class, and the barista at our favorite coffee joint. While these are important relational connections, and a topic for the post on Cultivation, they do not provide the same intimacy or authenticity as Christian community. For it to be authentic Christian community, our connection to other believers must be focused on unity in Christ. And because it is Christ who gathers us, it is important to know what we value as a community. Those things that we chose to gather around, are the elements that uphold our commitment to intentionally connect with a specific body.
We commit to gathering around:
A Shared Heart
This is the core of what draws you together as a community. Identifying the nature of your community, and why you gather, will help anchor you to Christ and each other.
A Shared Purpose
This is about your mission. Why do you exist as a community? Of course the foundation for your existence as a community is Jesus, but why else? It is important to define how Jesus' mission translates, in a practical sense, to your community.
A Shared Vision
This is about where you are going as a community. When developing vision ask questions like: What does growth look like? How will you multiply? What would a corporate gathering be like?
These elements will not only help a community uphold their commitment to each other, but will also move them forward into the commitment of challenging each other.
How is this Biblical
As mentioned in the last post, the primary passage of scripture for this process is Acts 2:42-47. This entire passage is replete with the followers of Jesus committing to remain connected to each other. The passage begins with verse 42 declaring, "And they devoted themselves to the apostles' teaching and the fellowship" (emphasis added). This passage reveals their commitment to continual communion with one another. Their communion was grander than what is common to our current culture. For them, communion was deeply intimate and reveals their affection, need for and enjoyment of each other.
But verse 42 is not the only indication of this. Verse 44 says, "And all who believed were together and had all things in common" (emphasis mine). This is an important verse and is how God lead me to these elements a community can gather around. The saints chose to gather and maintain a collective heart and mind. This is the unity that multiple New Testament verses mention (1 Cor 1:10, Eph 4:13, John 17:23). They gathered around a shared heart for Jesus and each other. They had a shared purpose for building the body up and equipping each other to do the work of the ministry. And, they shared a vision to see Jesus glorified and others brought into the Kingdom.
Verse 46 tells us, "And day by day, attending the temple together and breaking bread in their homes, they received their food with glad and generous hearts" (emphasis added). The Saints gathered to worship and eat together daily. It was not a Sunday and Wednesday type of gathering. Their gathering was not from a sense of duty. Instead, it was out of their affection for one another that they would gather.
Much Together
Three out of those five verses repeat the point that the saints were together, constantly, day by day, eating and worshiping together. They made a commitment to remain connected and gathered in complete unity. And, their focus was not simply to be around like-minded people. Their connection was more than mere proximity. Their connection was about communal transformation in Christ. This connection also drove them toward challenging each other. In his commentary, Matthew describes the importance and benefit of their unity by saying, "they were much together."
When a group of believers commit to each other, they are much together. And there is much for Jesus to manifest Himself.