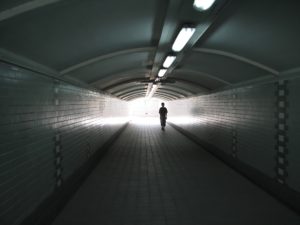 We wait. It's what we do. As Christians we are in the business of waiting. We wait on Jesus to return; we wait for seeds planted in other's hearts; we wait for them to respond to the Holy Spirit, and we wait for God to respond to our prayers.  We wait.
Waiting has been a reoccurring theme in a number of seasons in my life.
One of the more difficult seasons of waiting began during my divorce.  Being alone wasn't something I was familiar with.  I did not know how to be alone.  Prior to my marriage, there was always a woman I could call on when the possibility of being alone became all too real.  Even if it was someone that I didn't really like, at least I was not alone. I can't remember a time after the age of fourteen when I was alone. At thirty-two years old, with a broken marriage, I discovered "all alone" was foreign ground for me.
The military had just moved us to Cheyenne, WY.  We had been there only two months when my then wife decided to leave me. There were plenty of reasons why. But regardless of why, she was gone and I was alone. My first instinct was to quickly wrap up the divorce and "move on" with my life.  What "move on" meant to me was find another woman. At the time I had little interest in what God wanted for me.  It did not seem that twenty years of Sunday school had done much for me.  I believed God would be more of a roadblock, than anything, for any relationship I would want to pursue. But God had other plans.
The New Thing
Singleness was a new thing for me.  I didn't know exactly how to "do it." And God knew that.  As God began to reveal his purpose, I realized that it might be a long time before I would pursue a relationship.  About 6 months into this new season, I felt God ask, "What would you give up for Me?"  I had very little to offer. I went through the list of things or people he might ask as of me: my sons, my extended family, my job, my car, or my prized whitetail deer-bust lamp. None of them felt like what He was asking of me. Then, quietly, I felt Him ask, "Would you give up being in a relationship with a woman? Would you be okay if it were just you and me?" My heart dropped into my stomach and I felt physically ill.
Never be with a woman again? Never again share all the things you get to share in a marriage? Abandon the desire? I was scared and angry at the prospect of His request. I wrestled with God, for months, over what He was asking me to do. Eventually, through counsel and prayer, I settled into the hope that I could give up dating and marriage.  I determined to try my hardest to be obedient to His request. The divorce process took thirteen months. Afterwards, God made clear, through multiple confirmations, His desire for me to remain single. I was fully enveloped in His grace.
That season of singleness lasted another twelve months. Somewhere in those twenty-five months, God showed me that above requiring me to live a life of singleness, I needed to learn to trust him in the waiting. The lesson was folded into the waiting.  Trusting in the waiting.  I needed to "be still and know that [He] is God."
It was a long two years. It was a hard two years. It was a good two years.
Your Wait
It is important to say that I am not comparing my two years of waiting to your five, or ten, or longer. I know there are many who have waited much longer than I did. However, for someone who had never been alone, and was stuck in the midst of hurt, anger and sadness, this waiting was long.  My two years were simply a glimpse into the long struggle that singleness can be for some people. What I do want to do is encourage you.
Community
One of the main tools that God used to walk me through that season was other people. His community.  He connected me to people who loved me and taught me so much. He provided me with specific community I needed to be with during that season. Community was essential. This doesn't mean I didn't struggle or that it was easy all the time, but that community provided me with people I could lean on in those moments. People helped me endure my waiting. I didn't know the wait would be two years; I had settled my heart on it being much longer.  From my own wait, here are some thoughts I can share with you:
Find community
They didn't just come to me. I looked for them. I didn't know why at the time, just that I didn't want to be alone. And I found I wasn't.
Be open about your struggle
Find someone you can connect with and be open about your struggle. It puts flesh on the struggle. It makes the difficulty more tangible and gives you the ability to have someone on your side to help you wrestle through it.
Remember God is good
The Psalmist reminds us "Give thanks to the LORD, for he is good, for his steadfast love endures forever." God won't leave us just hanging out in the wind. The difficulty is for a season, but His goodness is forever.
I spent more than two years without an intimate relationship and discovered I was never alone. Jesus and His Bride were ever present. For me to learn this truth, I needed to meet them in what looked like aloneness and in my waiting.
My prayer for you, "May you be strengthened with all power, according to his glorious might, for all endurance and patience with joy."