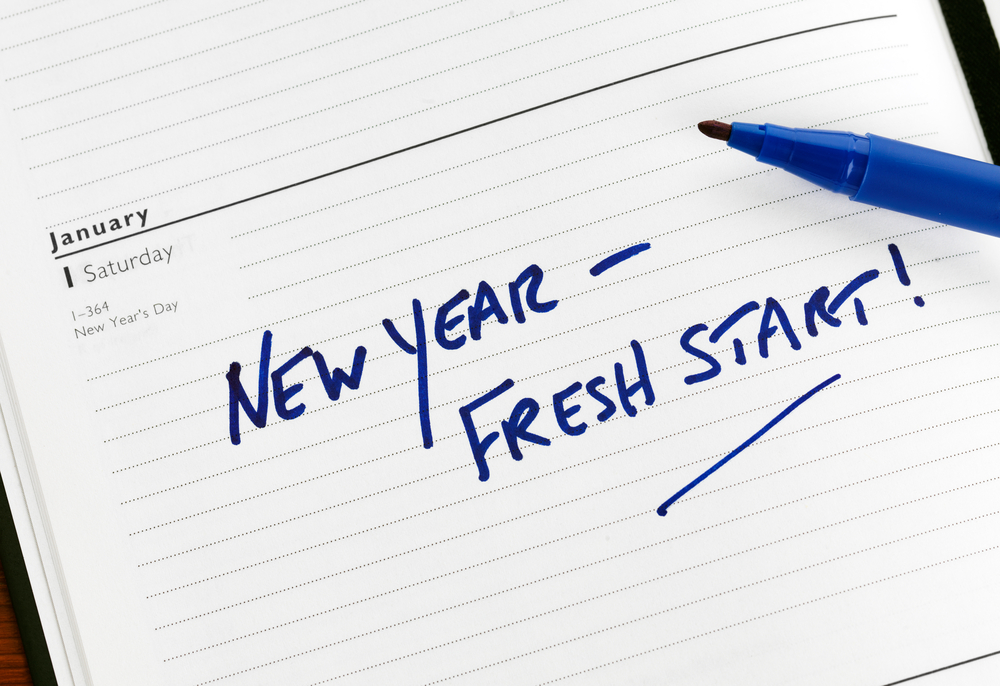 Every year we wait in gathered anticipation for the chiming of the bell that will signal the new year and with it the hopes of new beginnings. We take stock of the previous year and assign levels of disappointment or satisfaction to help formulate our plan for the next 365 days. Our entire culture, from the big screen to social media, suggest that if we can just make it to 11:59 pm on December 31st, we'll be alright. But that isn't the truth. The hanging of a new calendar doesn't guarantee a fresh new start. I don't want to be a complete killjoy, so I'll admit that there's something about the scent of anticipation that is intoxicating. And, to be fair, the starting of a new year and a calendar free from the ink of the previous "to dos" does allow for a good launching point for starting… or restarting.  Goal setting should be as much a part of the tearing off of the December page as it is the rest of the year. So, while a new year doesn't guarantee a new start, it does provide the possibility of one.
While a new year doesn't guarantee a new start, it does provide the possibility of one.
But, for so many people, they approach the new year with excited anticipation only to have their hopes for newness dashed once the "magic" of the holiday fades into the normalcy of everyday life. They look around and see that nothing has really changed; they're still in debt, maybe deeper from over-reaching Christmas, relationships are still broken, maybe depression still drowns them or their loved one is still gone. For many the escape from pain or disappointment was temporary; measured in mere days. The hope of the new year that we're peddled is mostly an illusion. It doesn't take into account the realities of most people's lives.
This isn't the case for everyone. There are some that are in a great place in their life; tragedy or hardship hasn't yet crashed down their door. The new year is a time of great reflection, in which they decide what bad habits they are going to abandon and which good ones they'll adopt. And they have the will power, discipline and accountability to do it. To those I would say, don't forget that there are those, in your life, whose new year started with dragging the chains of 2014 into 2015. There are people in your life whose 2014 ended with hurt or whose 2015 started with it. Don't forget them. Be a light to them. Walk with them through it. Remember them by being with them and loving on them. 2 Corinthians 1:3-5 says, "Blessed be the God and Father of our Lord Jesus Christ, the Father of mercies and God of all comfort, who comforts us in all our affliction, so that we may be able to comfort those who are in any affliction, with the comfort with which we ourselves are comforted by God. For as we share abundantly in Christ's sufferings, so through Christ we share abundantly in comfort too." Comfort them, don't try to fix it, just comfort them. For those that can't see a new year past the despair caked lens of 2014, I'll say this, there is hope. While everything else is uncertain and turbulent, God is not. James 1:17 gives us a promise to hold onto. It says, "Every good gift and every perfect gift is from above, coming down from the Father of lights with whom there is no variation or shadow due to change." While every other area of your life may be uncertain and ever-changing, God is not. We are able to trust the promises of God, through Jesus. Life may not make sense right now; it may not fit with how you thought things would be or how you want it to be, but there's still hope. God, through His people, can provide the comfort you need to bear your circumstance. Reach out to someone and hold on.
We are able to trust the promises of God, through Jesus.
Please don't misunderstand me. I'm not suggesting that if you hope in God all your problems will vanish; they won't. But God has given His people to grieve with you, to comfort you, to be with you and to sustain you, so that you don't lose hope. I wish I had answers for our "Why!?"s, but I don't. All I can offer is my time and my prayer. If I know you, and we're in close proximity, you can have both, just let me know. If neither apply, my prayer is still available, just let me know (I promise I'll pray for you).