---
Today we welcome new author, David Mike, to the blog. David was a US Army soldier that made decisions that landed him in the US Disciplinary Barracks at Ft. Leavenworth, KS for five years. During that time, David got to experience the grace-filled forgiveness of God, through Christ, and find his new identity.
---
disgraced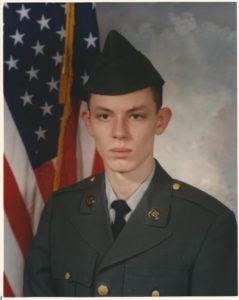 In 1987, at the age of seventeen, I swore in to the U.S. Army, fulfilling a childhood dream of mine to become a soldier. Two years later, I found myself sitting in a jail cell facing thirty-eight years in prison. In a turn of events I had become addicted to drugs, deserted my Army unit, and lived on the run for six months. My only source of income was from selling the very same drugs I was using.
After finally being captured by the Army's Drug Suppression team, I was court-martialed and stripped of my rank. I also received a dishonorable discharge and a five-year prison sentence at the United States Disciplinary Barracks at Fort Leavenworth, KS. I had nothing left, not even my own pride.
Not a disgrace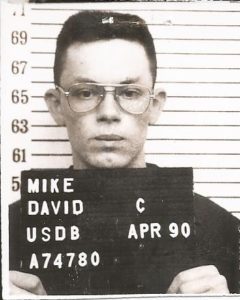 During my time in prison, I had an encounter with the God. I read a book that defined grace and forgiveness. It was all new information to me. I was raised in church but never really understood what these words meant. This book really resonated with me and I learned more about the way God sees us.
I was not a disgrace to my creator. He no longer saw what I did in the past because he took care of the penalty for me. He nailed it to the cross. 
So now there is no condemnation for those who belong to Christ Jesus.  – Romans 8:1
Even though I had a dishonorable discharge, it could not define me. My identity was in Christ. To Him, I was perfect and holy. It didn't matter that I was in prison, because:
So if the Son sets you free, you are truly free. – John 8:36
Freedom
Not the freedom I tried to take for myself.
Not the freedom that I would be eventually awarded by the Army.
Not the freedom that this current life was about to offer me.
But real freedom.
Released from the bondage of sin, my own thoughts, and the brokenness of my own flesh.
By God's grace, I had been forgiven and I had been redeemed by my Savior.
At the three year point in my sentence, I was offered parole and was released.
As time passed, I tried to get on with my life. Doing the best work I could at the at my job and staying out of trouble. Life was not perfect or easy and I still suffered from my human identity. This meant that I made mistakes from time to time. No one ever gets it right, only one man did and He was God so there's that. So, I tried to be a productive member of society, a role model to the students that I taught in a hair school, and a good man.
A Nation and Heart in Crisis
On September 11, 2001 our country changed forever. After the attacks a huge wave of patriotism swept our nation. War was imminent and everyone backed our service members no matter what branch of service or what job they held. It was amazing seeing how much love and respect was shared with anyone wearing a uniform.
It was at this time I became very unsettled. My father, brother and sister were all veterans and my youngest brother had just signed up just months before the attacks. As America hailed and praised our men and women in uniform, I began to develop a deep sense of guilt and shame about the actions that led to my incarceration and dishonorable discharge.
This feeling wouldn't go away and it cut deep into my soul. It was hard to go to work every day feeling like that. I was feeling like there really was no significance to what I was doing. That in the grand scheme of life, I was irrelevant. Men and women were going overseas to fight and die for a cause.
In no way, shape or form did I ever want to leave my family to go to war. It was in knowing that even if I did want to, I was blacklisted from serving. The time that I spent in the Army was good for nothing. The worst part was, every time someone said to me, "Thank you for your service" it dug the knife in even deeper. They meant well, but I just couldn't shake these feelings.
This same thing would happen around Veteran's day and Memorial Day. Holidays honoring those who serve or have served and for remembering the men and women who died while serving in our country's armed forces.
A reminder that I live in a country that was fought for with blood, sweat, tears and lives. I know that I walk around every day with the freedom that was provided for me. My heart is heavy and my head hangs low because I was discharged from the Army with dishonor. My selfish actions are to blame and I accept full responsibility. Having failed my family, my country and God miserably, I deserve the death that each military grave represents.
Yes, I know now that I am forgiven, and I know that God doesn't look at me this way. However, it seems, the consequences of my past still haunt me year after year.
Knowing that I am forgiven by God's grace is not enough. I need to surrender my past to Him and rest in my new identity daily. My conviction does not have to define me. I have to leave my old identity and accept my new one.
It is time for me to step out of prison and into the arms of Jesus.
For he called you out of the darkness into his wonderful light. – 1Peter 2:9
You do not have to be defined by your past, you have been forgiven and can have a new identity in Christ.
This is an excerpt from the book, Dishonor: One Soldier's Jourey from Desertion to Redemption , available soon for purchase on Amazon.
---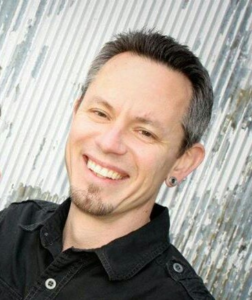 David Mike is a Christ follower, husband, father and Cosmetology Instructor in Omaha, NE. David started a blog to share humorous life events and also tell the story of the 3 years spent in the U.S. Army's Prison, Ft. Leavenworth, sharing the message that we do not have to be defined by our past and that God can use our kind of mess for good. This lead to authoring the book , Dishonor: One Soldier's Journey from Desertion to Redemption.
To join our launch team, click the link below.
Official Facebook Book Launch Team
To join follow my author Facebook page, click the link below.
If this is your first time hearing about my true life story and would like to read the unedited rough draft, click the title below.
Follow David on social media.
Twitter: @DilemmaMike
IG: DilemmaMike