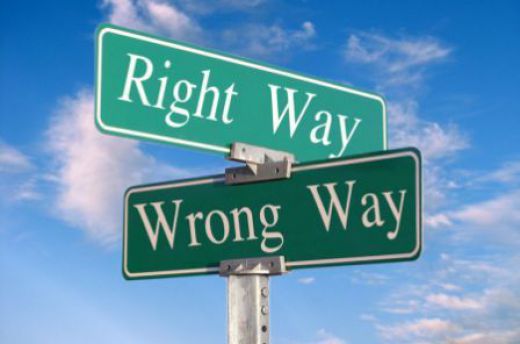 There's only one way to do church. That's right, you read that correctly; only one way. And, because I'm a nice guy, I'm going to tell you what that right way is. But first let me say, it is definitely NOT the way that "traditional" institutional Sunday service focused church is doing it. I'm talking about all those churches like Saddleback, Mars Hill, New Spring, National Community Church, The Village Church and all of those similar to that model; big or small. It is also definitely NOT all those small community based churches, and that includes organic home churches, like SOMA, 1Body, and all the ones that I can't mention because they're so small they don't have a webpage to link. None of them are doing it the right way. On the other hand, all of them could be doing it the right way.
You may be asking, "So, what's the "right" way then?" I'll get to that in a second, but first I need to clarify something and establish something else.
Clarifying: This post is NOT intended to dig at or cut down how any church is "doing" church. The model doesn't matter and I'll make that point in a minute. This post is also NOT intended to say that institutional church is doing it wrong. I grew up and met Jesus in "big" church. If not for going on Sundays and hearing the word preached, I'm not sitting here typing this.
Establishing: I want to be honest about where this post is coming from. Let me start by saying that I recently, with my wife and two long-time friends, started a small gospel centered community, all volunteer based neighborhood church. There are anywhere between 10 and 15 attenders (and that includes a lot of kids). So, my heart is for small church with big celebration. With that said, over the last few weeks I've heard and read a number of "institutional" church leaders, some from fairly large churches with decent influence, speak out about the topic that there is no "right" way to do church. A few of those posts/videos seemed really defensive and some even a little abrasive. Again, to to be honest, I'm not sure where this defensiveness is coming from. I follow a number of bloggers (both in large and small church settings) and I rarely see posts from organic/small/house church leaders that suggest that they have the "right" way to do church and big church is wrong or bad. What I do see is small church leaders sharing the call and vision that God has placed in their heart. I see them beckoning to those that are not in gospel community to come and join. I see them trumpeting God's vision for church, for them, the same way I see large church leaders do it every Sunday. This post is not meant to put those leaders on blast. It's meant to shed some light, reframe perspective and hopefully show the ability and necessity to be unified in one body and one Spirit.
It's easy to point out what others are doing wrong. We can look at an individual, program or organization and see the little flaws that may be hurting them, whether they know or acknowledge them or not. Sometimes that's good. If you're a part of that organization, have earned a trusted voice there and have a heart for the vision and mission, "fresh eyes" are often welcomed. But, if you're outside of that organization, aren't trusted or don't care about the vision, then voicing what you see is likely not helpful and will typically be taken as criticism for the sake of being a jerk and will often be disregarded. It's also easier to make it seem like what you're doing is better or right, if you can point out others' errors. If that's what you're doing, then chances are you don't actually believe what you're doing is right or good. That's what's been happening in the Church.
Lots of big and small church leaders have written books or blogs about the "right" way to "do" church. Some of them point out all of the "wrong" stuff that the other is doing. I haven't spoken to most of those leaders, but I imagine that the ones that point out what other churches are doing wrong and then counter with how they're way is right, don't really believe, deep in their heart, that they are really called to it. Or at the least, they haven't spent time allowing God to cultivate the call in them.
As I mentioned, I'm part of a team that just started a small neighborhood church. It's the culminated call of years of God's cultivation and the beginning of His pruning and harvesting. I have journals, upon journals with writings about what church could look like, outside of the larger institutional model and different than the organic house church model. The vision God has planted in my heart falls somewhere in between those two models. But, I believe in it. I believe in that call and vision. And because I believe in it, I write about it and I plan to write about it a lot more. In that writing I always try to take care to not say either side is doing church wrong. Like I said, without institutional church, I'm not here. It's never been about anyone doing church "right" or "wrong". It's about doing church the way that you feel God calling YOU to do church. Ultimately I don't care how you do church as long as you do church. Realistically I'd like every Christian to understand what it means that we are church, but I'll settle for doing church together in the mean time. What I, and many others, write isn't an accusation toward big church "doing it wrong."
My articles like Rethinking the Churches Front Door and It's Not Your Pastor's Job are not indications that I think institutional/big church models are wrong in the model they're using or the work they're doing. What it does mean is that I'm pursuing Jesus in a way that honors the call and vision that God has placed in my heart. It means that I believe in what God has invited me, and many others, to be a part of. It means that God has shown me that it works; both through my life and in the lives of others that I've been a part of. It means that God has revealed to me that there are people that neither traditional Sunday service focused church, nor simple organic home church will ever reach, but that this model will. It means that I know there are people that we will never reach with this model of church and I thank God that there are traditional Sunday service focused churches and simple organic home churches to do that. It means that I'm writing for those that God may be prompting to do something different or fresh.
My writing, and likely many others that are writing about the vision God has given them for church, is not a call to abandon the way that God has called you to be a part of or "do" church. It isn't the antithesis of your model of church; it's complimentary to it. It's intended to be a different part of the same body. When you act offended at the notion that God may have shown someone else another way, you're telling that part that they're unnecessary. But "The eye cannot say to the hand, 'I have no need of you…'" I've heard so many pastors and leaders in traditional Sunday service focused churches say something to the effect of, "Our way isn't the best or only way to do church, it's a way and it's the way that God has called us to." If that's a true statement, then the words directed at other churches should be ones of encouragement and building up.
The only way to do church is to answer the call to the community that God has placed in you. As long as it's biblical and Jesus centered, you've got THE way to do church. Chances are, all of us have some aspect of church wrong. But, as long as we're in a community of believers who's sole purpose it to glorify and worship God, then you're doing church "right." Your full "rock" style band leading worship is no more wrong than your single guitar and djembe. Jesus said, the world will know we are his by our love for each other. Maybe we start by not being defensive toward one another and recognizing that we're all doing the same work, His.
What are some ways that we can be unified as one body?
If you found this article helpful, please click one of the share buttons. Thanks.