On Monday we began hearing stories about an "anti-gay day" organized by some of the students at McGuffey High School in Claysville, Pennsylvania. Since then there have been so many news reports, article, and blogs. The district administration has also supposedly initiated an investigation into allegations of harassment that accompanied some of the "protest."
The fact that these kids organized a protest doesn't bother me. I spent two decades in the military to help ensure people are able to freely voice themselves, no matter how narrow minded and bigoted it is. What bothers me is this: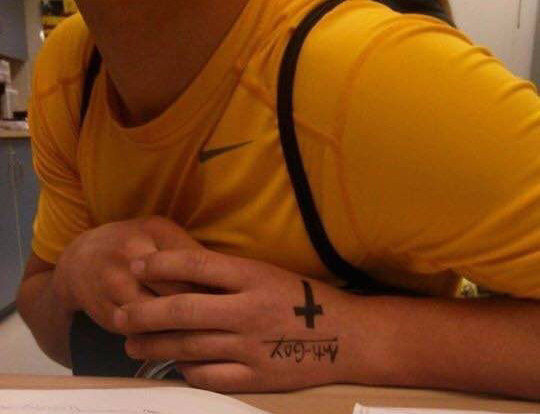 The fact that they used the cross as a symbol of being anti-gay. I'm kind of getting tired of writing this, mainly to people that call themselves Christians. The fact that this ignorant kid used the cross as a symbol of hate, infuriates me. The cross is a symbol of forgiveness. It's on the cross that Jesus died to destroy the very thing that this kid is using it to represent: hate.
WHERE'S THE LAW THAT PROTECTS MY RELIGION FROM HATEFUL PEOPLE RUINING IT? ~ TWEET THIS ~
If you read the buzzfeed.com article, it even says that the participating students Instagramed scripture verses and tagged students that they knew are gay. I couldn't find that anywhere else, but if you can't believe BuzzFeed, who can you believe? Regardless, even if there's a sliver of truth to that, this picture still remains. I'm absolutely exhausted from the amount of anger and frustration caused by people, pretending to be Christian, using the Word of God, that was meant to draw people to Him, as a tool to perpetuate their hate. Where's the law that protects my religion from hateful people ruining it.
To the LBGTQ students at McGuffey High and every other high school that will no doubt have idiots that pick up this idea,
I'm sorry. That's not my Jesus. That's hate and Jesus isn't hate. In fact He's love. He not only loves you, He IS love. I know there are some harsh verses in the bible and people use them to call you all sorts of horrible things, but they're ignorant and not taking the whole of the bible for what God said or intended. They're cherry picking what suits their cause, not God's. What these students did is the youth equivalent to the Westboro Baptist bullies and it's disgusting.
Jesus would NEVER condone this type of behavior. I wonder what might happen if Jesus were still walking the earth and a group of people threw a gay man or woman at His feet. I imagine it would probably gonthe same way it went with the adulteress. He would say, "Whoever here is without sin, throw the first stone." Then He would eat with them, at the disgust of the religious. I'd go to that dinner party.
Please, for the love of my God, if you're anti-gay, stop using my religion as a means of hurting and hating people. Figure out another way and leave Jesus out of it. Because, when it comes down to it, you're not really Christians. If you were, you'd know the bible is pro-God and God is pro-people. If He wasn't, there'd be no cross.