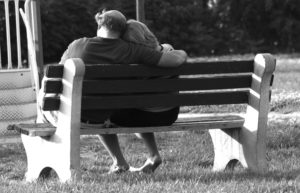 When culture speaks to the topic of intimacy, it is assumed the discussion will be about the physical, sexual act. Unfortunately, when we try to boil down something as intricate and deep as intimacy, we miss a lot of important stuff. And because that important stuff, is the stuff of healthy relationships, we settle for shallow connections. In fact, when you look up the definition of intimacy, of the 7 definitions, sex does not appear until number 6. This is because intimacy is so much more than sex.
Does intimacy include the physical aspect? Yes. Before we consider the physical act, there are at least 3 other forms of intimacy that are necessary. Following are areas of intimacy we should first concentrate on, if we desire to cultivate a healthy relationship.
Intellectual Intimacy
This is the sharing of ideas and opinions. The goal is to discover similarities and differences in how you relate to the world. Intellectual intimacy may take some time to develop, because it requires getting past the infatuation stage. This stage is the place where you are willing to be agreeable to nearly anything, as long as you can just be next to that person. Infatuation initially builds intimacy out wide, but not deep. Intellectual intimacy is greater than infatuation. Once you are able to move past infatuation, to the place where you can share your genuine views, then intellectual intimacy will flourish.
Emotional Intimacy
Emotional intimacy has to do with the ability to share personal experiences and the internal feelings associated with them. This is often a difficult area of intimacy for many people because it requires vulnerability and trust. Trust is key for success in this area. And because real trust takes time to build; emotional intimacy is an exercise in patience and practice. Moreover, true emotional intimacy is not an area of intimacy that can or will be rushed.
Spiritual Intimacy
This can be a complex type of intimacy. If you are a Christian, this is about closeness to God as shared with your partner. It has to do with building your own deep intimacy with God, and sharing with each other, so you are united. Initially, your responsibility for spiritual intimacy is fairly restricted. You should concentrate on being concerned with growing your relationship with God, and encouraging your partner to grow their relationship with God. As you grow closer, you will bring your together relationship to God. If you are not a Christian, this area has to do with growing deeply in those areas that you hold sacred. This is far more profound than emotional intimacy. Spiritual intimacy takes more time than other areas.
These 3 areas of intimacy are especially important if you are just beginning a relationship. Your ability to cultivate intimacy, in these areas of your relationship, is crucial to its future and health. It can also be a good "measuring stick" concerning the potential of a future with this person. If together, you cannot develop intimacy in these first 3 areas, before the physical aspect of your relationship, I would suggest that you take a serious look at what you are actually building together.
If you are already in a relationship, dating/engaged/married, then these are the areas of intimacy that you must continually work at maintaining. When it comes to intimacy, you never fully "arrive." As long as you are both growing, there will always be a need for deeper knowing.
If you are a Christian that grew up with the "True Love Waits" teaching in youth group; I am not pitching a "sex before marriage will ruin it" theology. I do believe that sex is the physical expression of a deeply, cultivated love and meant to happen within the boundaries of marriage. I am not so naïve as to believe that everyone takes this same stance. What I am saying is that physical intimacy is meant to be experienced after the culmination of deeply mining out these other areas of intimacy. That takes time. If you take this time to more profoundly know your partner, your relationship will naturally move toward physical intimacy based on a continued desire to know, rather than a feeling of lust. When you realize that this is happening, marriage is a logical conversation.
Ultimately our desire for intimacy is a product of how God created us and is echoed in Jesus's prayer in John 17.
20 "I do not ask for these only, but also for those who will believe in me through their word, 21 that they may all be one, just as you, Father, are in me, and I in you, that they also may be in us, so that the world may believe that you have sent me.22 The glory that you have given me I have given to them, that they may be one even as we are one, 23 I in them and you in me, that they may become perfectly one, so that the world may know that you sent me and loved them even as you loved me.