Prayer is a beautiful thing. Not that it's easy, generally speaking. Actually, praying is really easy, but it's the faith & patience required after the prayer that isn't easy. But when you let God build your faith and allow the Holy Spirit to lead you to a place of comforted waiting, the intimacy that accompanies prayer can only be described as beautiful.
A Long Time Ago…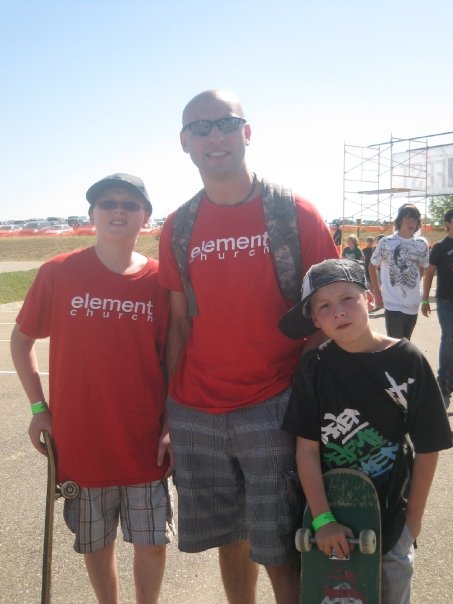 On April 12, 1997 I was just 20 years old, had only been in my first marriage for eight months and had no idea what it meant to be a dad. I also didn't have long to figure it out, because that was also the day that my first boy was born. If you do the math, you'll see that back then I didn't actually understand what it meant to be a man or follow Jesus. Regardless, this was the day I met my son, James, and I was absolutely enamored with him. I felt like my heart might burst out of my chest. When James was about 15 months old we talked about having a second child and 9 months later my boy Andrew was born. I was equally heart swelled. I couldn't believe I had two gorgeous, awesome little boys. At the time we made the decision that we were done having children, so right before Andrew was born, I had the ol' pipes capped off.
Her, Him, Them, Me and Us
Fast forward nine years and I had a 9 and 11-year-old sons and a divorce. Sparing the details (I've blogged at length about it HERE and HERE), I had to start considering what it might look like to start… dating. This time I had a firm grasp on the type of man God expected me to be and what it looked like to pursue after Jesus. That was 2009.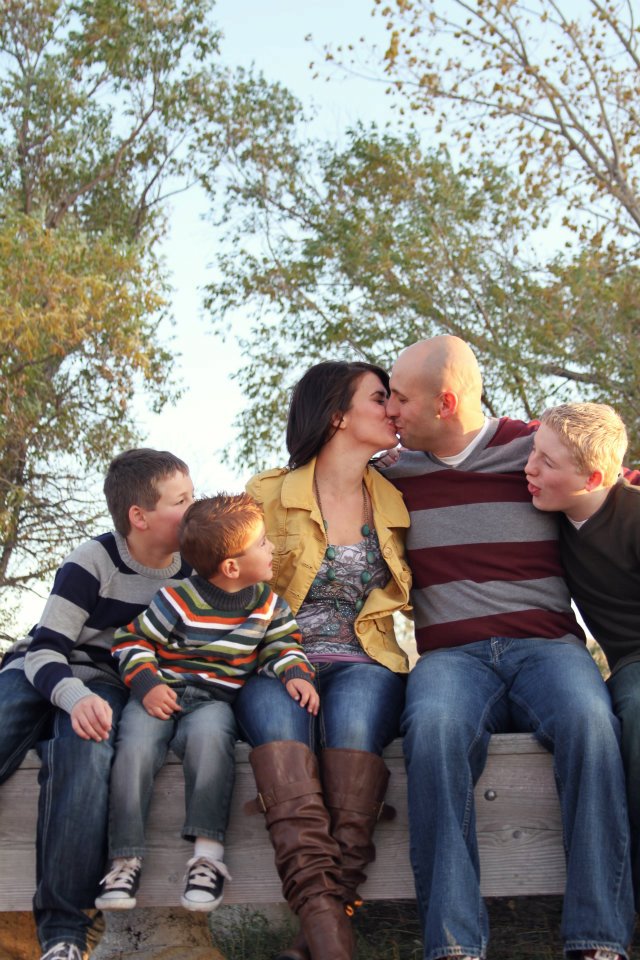 Then in June 2010, my boss, friend and pastor, Jeff Maness called me to meet for staff pictures. When I got there, I met her. I've blogged about Sarah more than once… HERE, HERE and HERE. Sarah introduced me to my third boy, Malachi. In April 2011 we joined our hearts and our families together. As much as we loved our boys, we decided to have a child together, potentially more than one. At the time I was 34 and was a little hesitant because for the last 13 years I had thought I was finished having children. There was also the issue of the "work" I'd previously had done. But the decision was made and we started looking at what needed to be done to live the dream.
The first big obstacle we faced was the cost associated with a vasectomy reversal. Our insurance didn't cover it and there was NO way we could afford $12-14,000. After a number of phone calls and much prayer, we came across a doctor at the University of Colorado Hospital in Aurora, CO that was willing to waive his fee and charge only what the hospital costs were, saving us nearly $7,000. If that wasn't enough, he literally wrote the book on a micro-surgery procedure that, at the time, unbeknownst to me I would need. We had our date set for my surgery and continued to pray for its success. In short order, during a moment of private prayer in early April 2012, God led me to Genesis 17:16. I heard God's definitive promise that He would answer our prayer for a baby and not just a baby, but a baby girl. He didn't give a time line, just a confidence that He had heard us and His promise. Although it was a promise for my wife and I, I felt like God wanted to give her the same confidence in His promise and it wasn't suppose to come from me, so I wrote it in my journal and left it.
Let's Talk About…making a baby
On June 1, 2012, 6 weeks before moving to Japan for our new military assignment, I had my reversal completed successfully and was given a 40% pregnancy success potential. Being a Pagano and given the amount of testosterone flowing through our veins, I took 40% as a guarantee. In July 2012 we moved to Tokyo, Japan and by December we started to take serious our attempts at having a baby. There were temperatures and fluids and techniques and things that would make a single, pre-marriage guy curl up in the corner and cry "TMI! TMI!"
By June 2013, we knew "stuff", but were no closer to a baby than we were in December. It was a season of utter disappointment and frustration. At the time I did realize, though it didn't make it easier, that we weren't ready for a baby. As much as me and my wife love each other, bringing a blended family together is difficult and there were things that God need to take care of in our family and marriage. A baby would have complicated things and it wouldn't have been fair to Hazel to be born into such a frustrated and chaotic season. Whether or not we can see it, God knows. We decided to stop "trying" and just let be what would be.
After another six months, our family and our marriage were in a very different place. Things weren't perfect, but there was so much more grace and forgiveness and we decided to start trying again. By late January 2014, we were at the point of complete frustration. We hadn't seen any signs of being pregnant and conversely had some indications that cycles and timing might be off, preventing a positive pregnancy. We brought the concerns to our military medical provider and received no help and were told that they wouldn't be able to see us until Jun… 6 MONTHS AWAY! By mid February Sarah and I started to accept that we would most likely have to wait until we returned to America, if approved for retirement, before we received any help.
The Fast and The Faithful
Right about that time I felt prompted to spend some time in prayer and fasting. I'm not talking about from Facebook, either. I'm talking good ole biblical, no food for days, only water and the word type of fasting. In the past, when I fasted, I typically entered into it with a mindset on supplication and a list of prayer requests, but this time was to be different. Not that there's anything wrong with prayer requests. God invites us to ask. It's the attitude and intent with which you come to Him that matters most and in the past, it wasn't always about Him more than me. This time it would be. This time the theme would be; God, I can't, but I know You can.
From February 27 to 29 I rented a small cabin in the recreation area near our base. I took a case of water, my computer and my bible. Those three days became some of the most weight lifting days I've ever had. I spent them reading, writing and praying. Oh, the prayer. During one particular session, that was intended to be a one hour walk, but turned into three hours because I got lost, that God unburdened my heart the most. It was during that walk that I surrendered my inability to answer my wife's frustration and hurt of not being pregnant, my worry of not being approved for retirement, the dread connected to the possibility that we would be starting a new life and new career soon; He got all of it. I left my retreat with a deep knowing of God's goodness and faithfulness.
Promises, Promises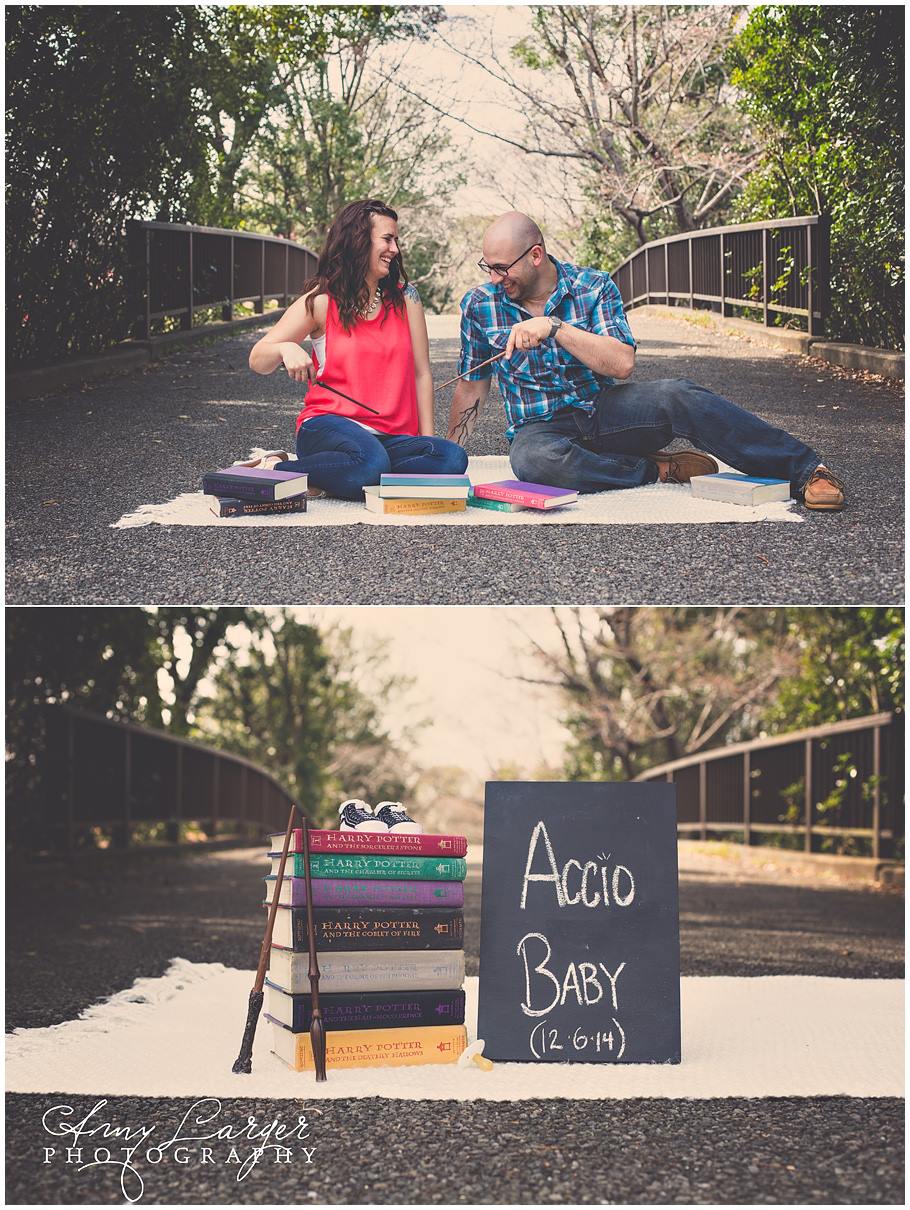 Two weeks later, on March 14th, God fulfilled the promise that he made two years prior, because that was the day that Sarah became pregnant, though we wouldn't know until a week later. Consequently, I was also approved for retirement on that same day. It was absolutely amazing and completely God's timing.For the next nine months I got to see my gorgeous and sexy wife, grow our baby. We spent that time talking, preparing and anticipating. In mid-June we got to see God's promise for a baby girl fulfilled when the ultrasound tech pointed out her girl bits.
She's Having My Baby
Then, on November 26th I received a text from Sarah telling me to be "standing by" because her water broke. I'd been at work for an hour. The next text was, "The midwife said you should come home." OMG OMG OMG!!! WE'RE GOING TO HAVE A BABY!!! I should pause here and cover two things. First, I realized before November 26th that we were having a baby. What I didn't realize is that it was already time. There was so much to still do. Second, we used a midwife because we decided to have a home-birth mainly because we believe in witchcraft (my homage to Jim Gaffigan). When Sarah said she wanted to have a home/water birth, what I wanted to say was, "That's SO hippy." but actually said, "Whatever makes this the birth you want, we'll do it." So we did.
I got home to a surprisingly calm and mobile Sarah. No contractions beyond what she'd previously had. We walked around the neighborhood, in the snow, uphill, literally both ways, we went to Target and even ordered Jimmy John's; still no real progression. By 3:30pm our basement was strung with white Christmas lights, the pool was filled with 101 degree water and the music was playing low. By 4:30, after some techniques the midwife suggested, Sarah instructed me to have our friend come pick up the boys.
By 5:30 Sarah was in full active labor. I couldn't believe the quickness with which the pain had arrived and caught her off guard. Regardless, she was handling it so well. She began trying different positions in an attempt to relieve the pressure, ultimately ending up in the pool. While we talked in-between the contractions, I started to worry that I would forget what I was supposed to do to help her. During the contractions, as I prayed, I tried to quote scripture over her and forgot what I was supposed to say. If I couldn't even remember scripture, how could I help her at all?! At that time she started to say that she couldn't do it and that's then that I realized that fear had started to occupy the space that was strictly reserved for miracles. I think Sarah knew it, too. I prayed for God's peace; it came.
Somewhere during that time, the midwife showed up and started all her prepping. During one of the more intense contractions, I remember Sarah nearly pleading with the midwife to check her dilation, because she needed to know how long the labor might last. As she asked, all I could think was, "What if she has to labor for 6 more hours? How do I help her?" They were unnecessary questions. The midwife checked and said, "She's right there, just about a half an inch in. You're gonna have a baby soon."
Soon our birth coach and photographer had arrived. I spent most of my time leaning against the pool edge, holding, kissing and encouraging my wife. I could tell my wife wanted to fight against the pressure and work her body was trying to do, but she couldn't; it was too consuming, too natural, and too big.
Sarah looked at me and said she could feel our baby's head and there was so much hair. While the student midwife tried to apply counter-pressure, the midwife asked Sarah if she wanted me in the water with her. Keep in mind that we had already talked about me NOT being in the water with her, mainly because of what we'll call "floatees". Because it was what we decided, I was fully clothed in running pants and a t-shirt. But, when your laboring wife wants you in the water, you get in the water. So, I got in the water and sat behind my wife. I took over the counter-pressure job and continued to encourage Sarah.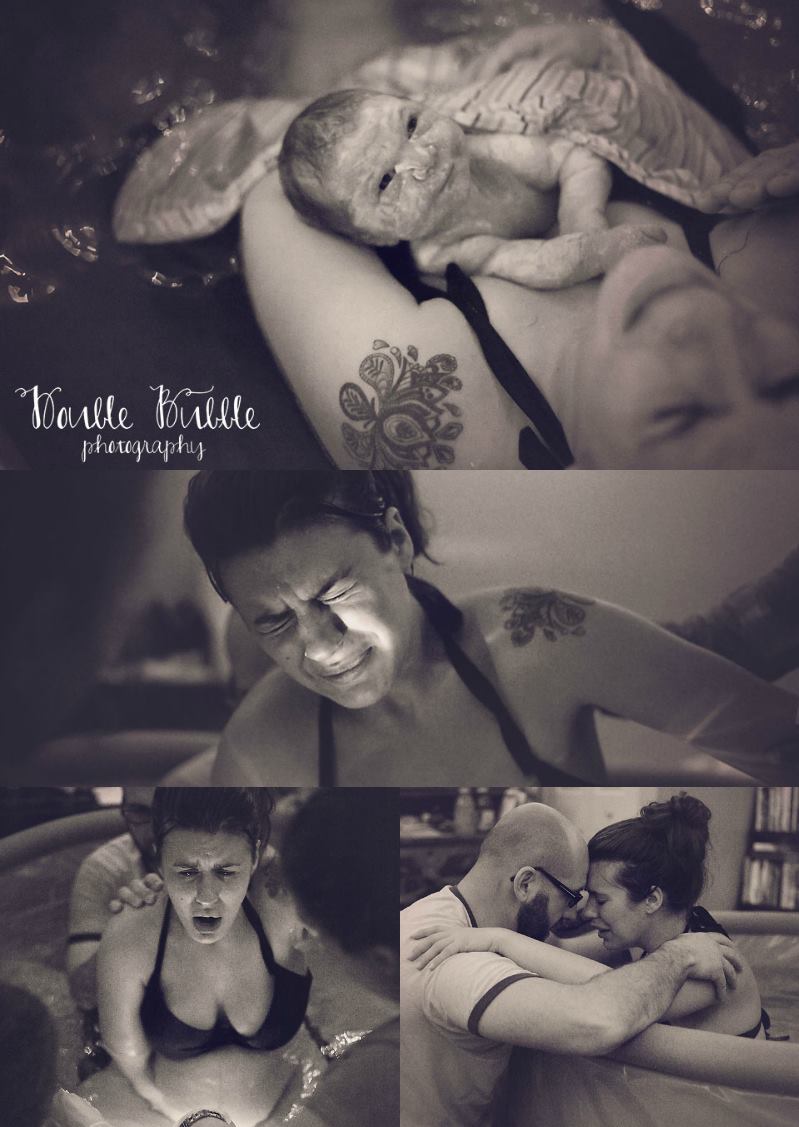 Then Sarah started saying that she wasn't pushing, but that her body was. There was nothing she could do, her body wanted us to meet our baby. I don't remember a lot of what was said after Sarah said that, but I do know that at 6:52 the midwife pulled our baby from the water and placed her on my gorgeous wife's chest. At that moment, I fell in love twice. Hazel didn't cry; she just looked at Sarah. My wife's head was thrown back as she cried tears of elation, relief and joy. I said, "Babe, she's looking at you, look at her." She looked down at our daughter. Through tears I watched as the two most beautiful and important girls I'd ever laid eyes on, looked at each other for the first time; this is what God's faithfulness looks like.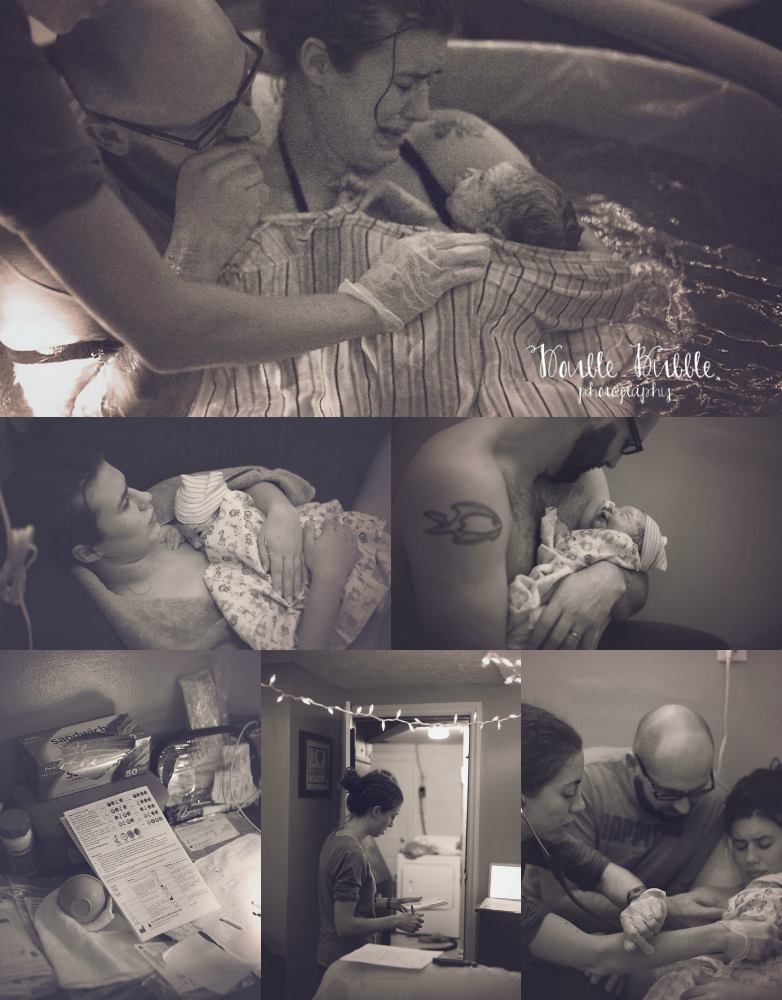 To say that the setting was peaceful would be an understatement. The amount of peace that Hazel came into the world with was unbelievable. There was no shouting or crying; there wasn't even any sense of urgency. Sarah exited the pool and laid down to snuggle Hazel and almost immediately she breastfed. Still no crying; just peace. As Sarah cuddled our daughter, Hazel looked around, soaking in the newness of the world. It was better than amazing. I got to hold her for some skin-on-skin contact. My heart melted all over again the moment her warm skin touched mine.
Initially my response to a home birth was that it was kind of weird. After seeing how amazing it went, undoubtedly because of God's good grace and answers to our prayers, I'm sold. If we were having other babies, it would be at home, for sure! A home birth may not be for everyone, but it's definitely worth the consideration.
Her Words
If you want a deeper account of the birth story, in arguably delivered in far more eloquent words, check out my wife's post HERE.
I'll end with this… God promised us Hazel so long ago. The fact that it was two years ago is an indication of God's mercy on us, and Hazel, while He brought us through a seasoning period. Two years ago we weren't in the place, physically (we were in the military in Wyoming), spiritually, mentally or emotionally, that would be best for any of us. Today, things aren't perfect, although if you look at Hazel you get a glimpse of it, but we're doing well and we understand God's grace and mercy better.
I love telling this story and I'd love if you'd click one of those icons to share it.