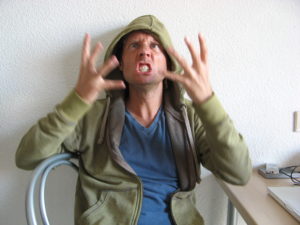 If I had to guess, I'd say that as a dad (primarily to my two older sons), I've messed up more than I've gotten it right. I have tried hard to be a good dad. But for all my effort, all I was doing was trying to modify my children's behavior rather than nurturing their soul. This was not intentional. It's how I grew up. I wasn't equipped for any other type of fathering. Things are quite different now that I am actually committed to following Jesus in a real way; not in the "I go to church every Sunday" way. However, this doesn't mean everything is perfect.
One of the things I've struggled with for most of my life, and definitely as a father, is anger. And not common anger, but a hurtful, rage-type of anger. The type of anger that frightens people. Most of the time it has remained dormant, deep inside. I believed part of being a "good man and father" meant controlling and restraining that anger. Unfortunately, life will eventually reveal the true character of even the most controlled and disciplined person. There are many reasons I carried this anger. While I won't go into why in this post, it was the result of hurt and unhealthy, emotional crap. Over the past 6 years, God has healed nearly all of it and I'm far less angry. But, again, that doesn't mean everything is perfect. Occasionally I still screw up as I did with my 18 year old son a couple weeks ago.
Over this last year of school he procrastinated making plans and two months into the summer he still didn't know what he wanted to do. I'm sure it's no different a situation than many parents of 18 year-old, young men go through, but nonetheless it was still frustrating.
I'm not sure how other parents would handle that situation. This is new ground for me. I did offer advice and direction. Until about two weeks ago. That's when the proverbial nuke detonated and he was ground zero. To say I flipped out on him would be an understatement. What I did was go on a 10 minute tirade of steering-wheel, fist banging, accompanied by yelling and cursing. I raged. I reached a point of such severe frustration, that instead of walking away and taking time to regroup and calm down, I unloaded on him. At the end of my tirade he was visibly upset, hurt and frustrated. I walked away. I went to my room and tried to go to sleep. Fail. On a lot of levels, fail.
As we seek to follow Jesus, the Holy Spirit reminds us, as promised, of everything that Jesus said. It's part of our growth. One reason to establish a consistent time of prayer and Bible reading is to allow for this growth. God speaks to us through His Word. It is in the moments where our behavior is far from Christlike, that God uses the word He's already spoken to draw us back to Christlikeness. Simply put, in those moments that we least reflect Him, He's going to speak words from the Bible that we've intentionally chosen to hide in our heart. He won't give us a word that will be easy to ignore, or one we will doubt as being from Him. Instead, He's going to use Scripture, so that there's no doubt it is Him Who is speaking. It's the same reason that when faced with temptation in the desert Jesus told the devil, "It is written…"
As I laid in my bed trying to calm down, all that kept running through my head was, "Be angry and do not sin; do not let the sun go down on your anger, and give no opportunity to the devil." Immediately I knew God was calling me to display Christ to my son. I continued to lay there, not knowing what to say to son. Then I felt the Holy Spirit remind me, "Fathers, do not provoke your children to anger, but bring them up in the discipline and instruction of the Lord." And "A soft answer turns away wrath, but a harsh word stirs up anger."
I went to my son and asked for his forgiveness. He extended it. We were able to have a calmer discussion and we are good. Here's what I want to share with you:
When I offered my son anger, my Father offered me grace. When I was deaf to my son's hurt and frustration, my father heard mine. When I refused to extend the fruit of the Spirit to my son, God cultivated and tended to the seeds that Christ had planted in my heart, leading me to extend the same to my son.
We fail…
Because we're human
Because we're still being redeemed
Because we're not yet perfect
But, no matter how we fail, God offers grace. Every time.
You are not a failure, you are human. You will screw up; as a friend, as a leader, as a follower, as a husband and as a dad. I promise. However, God's grace is bigger.
One of the best things you can do for your children is maintain a consistent prayer and Bible-reading time and listen to the promptings of God. Actions such as seeking the forgiveness of your child is God leading you to father them well.
Grace always trumps anger. Always.